---
Thomas Dixon Centre
Home to Queensland Ballet since 1991, the Thomas Dixon Centre is expanding its cultural offering, thanks to support from the Queensland and Australian Governments, the Ian Potter Foundation, and generous donors and corporate partners.
"This building will be here when I and my sons have long passed, as a monument of pluck and indomitable perseverance."
— Thomas Dixon
In 1908, Thomas Dixon, an entrepreneur and visionary, commissioned Richard Gailey, leading architect of the day, to build his boot factory in Brisbane's West End. Our home since 1991, we are now collaborating with the very best designers, architects and engineers to revitalise our iconic, heritage-listed Thomas Dixon Centre.

Historical imagery courtesy of State Library Queensland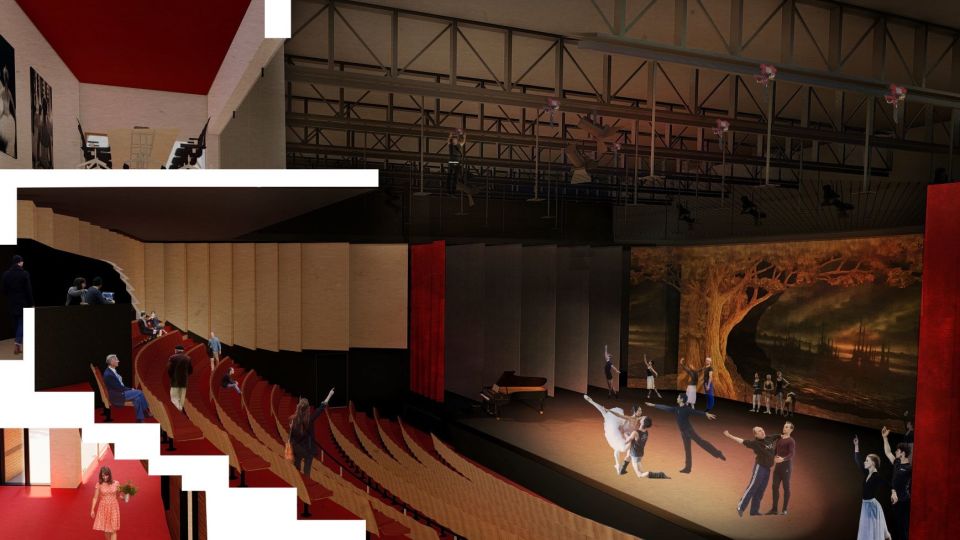 Talbot Theatre
Our 351-seat Talbot Theatre will be built over three levels, designed to enable full-scale Company rehearsals and performances, with optimal sightlines from every seat.  We look forward to welcoming showcases by Queensland Ballet Academy dancers, works for young audiences as part of our My First Ballet Series, masterclasses and community activities, as well as artists-in-residence and external hirers.

Generously supported by the Ken Talbot Foundation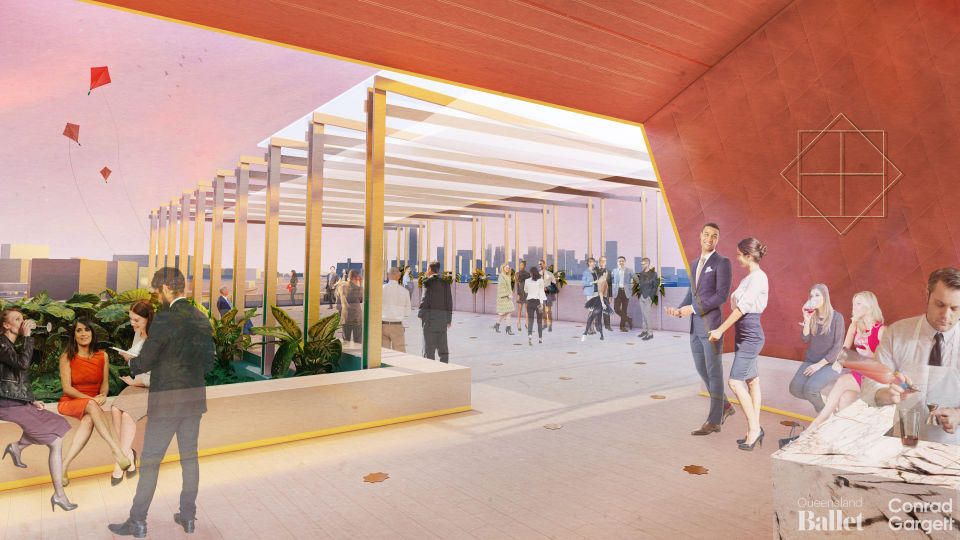 Kite Terrace
The Kite Terrace hovers above the Studio Theatre celebrating Queensland's wide blue skies and Brisbane's city views, paying tribute to our fifth Artistic Director, Li Cunxin. As a child, Li spent rare and precious time with his father, making and flying kites. They carried his hopes and dreams, carefully written in messages tied to their tails, up towards the clouds.

Generously supported by Tim and Gina Fairfax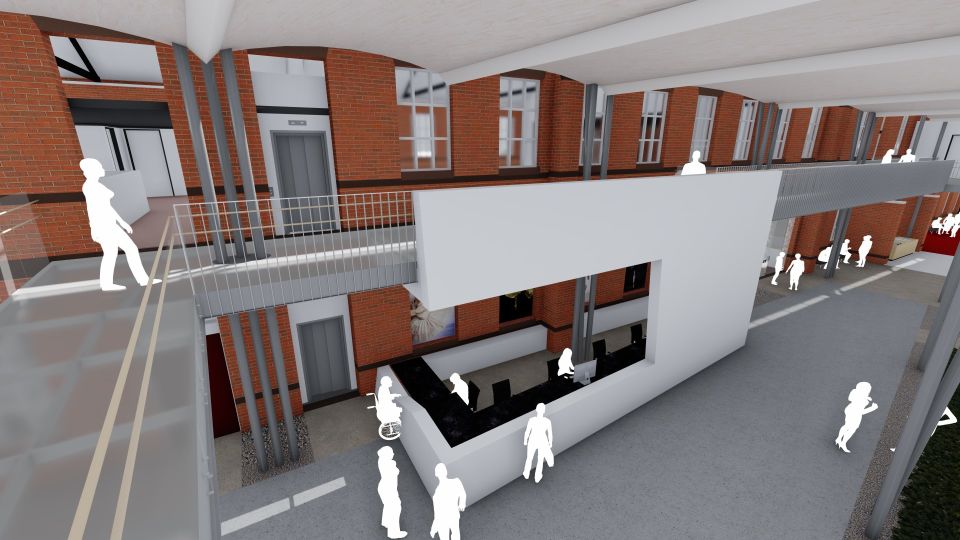 The Ian Potter Promenade
The Ian Potter Promenade sits at the heart of our home. With the heritage building façade exposed on one side, it is a soaring, welcoming space which connects the many departments of our Company. Providing unique glimpses into the Wardrobe Workroom and Wellness Suite, The Ian Potter Promenade celebrates the past and present, and offers unexpected connections with art, artists and community.

Generously supported by the Ian Potter Foundation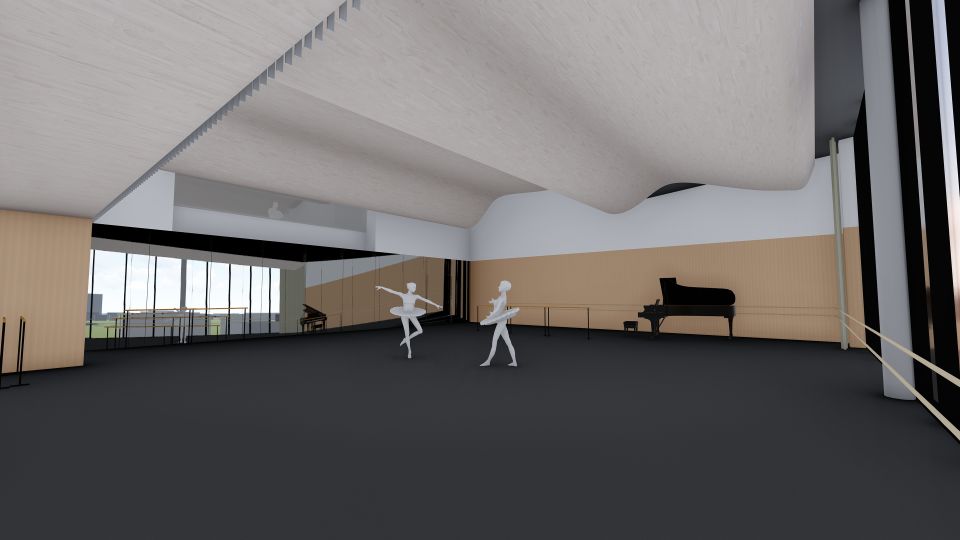 Community Studio
One of six dance studios, our Community Studio is dedicated to our community. Curated education installations, curriculum-linked school activities, public dance programs for people of all ages and online connectivity will ensure that our community has a considered presence in our home, every day.

Studio generously supported by the Murphy Family Foundation
For our dancers, we are committed to providing world-leading medical facilities and care for injury prevention, treatment and recovery, and mental wellbeing. Our new Wellness Suite will offer outstanding facilities including physio treatment areas, fully-equipped gym, massage zone, medical consultancy rooms, Pilates space and rehabilitation studio.

The Wellness Suite is generously supported by Kay Van Norton Poche AO.
Dancer Spaces
In addition to the Wellness Suite, our dancers will have access to elegant dressing rooms, designed dressing stations and private lounge and terrace spaces. Their home away from home, Thomas Dixon Centre considers our dancers at its core.

The Dancers Terrace is generously supported by Barbara Bedwell.
From tutus and period costumes to technology-infused designs, our Wardrobe Workroom creates and refurbishes hundreds of costumes each year. Our new Workroom will incorporate workshop and store, fitting rooms and spaces for pointe shoes, wigs, art-finishing and laundry.

We are seeking visionary supporters for our Wardrobe Workroom.
Private meetings and events could be supplemented with private viewings from the 21-seat Gallery as guests watch rehearsals and performances in the TDC Studio Theatre through a floor-to-ceiling glass wall.

We are seeking visionary supporters for our Boardroom and Boardroom Gallery.
Bunker Bar
The Bunker Bar will be an intimate space for visitors, audiences and the general public to enjoy. The World War II bunkers will be carefully preserved and all heritage brickwork restored and revitalised to ensure the character of this unique space is maintained and supported.

Generously supported by the Clark Family
Café
The Café is located at the front of the building and will serve a variety of meals and refreshments, enabling our guests, class participants, staff and visitors to enjoy healthy and casual dining options throughout the day. The choice of food and beverages will be aligned with the WELL™ building requirements which put wellness at the heart of the Thomas Dixon Centre.
Garden Rooms will run the length of Thomas Dixon Centre's Montague Road frontage, each space complementing the building's internal functionality. There will be a public area outside Café, a running track outside the Wellness Suite and other spaces which will provide opportunities for people to gather for work or pleasure in the mild weather and beautiful green surrounds.  

The Sirromet Garden Room is generously supported by Terry and Lurleen Morris. We are seeking visionary supporters for other Garden Rooms.
Acknowledging the contribution of our five Artistic Directors, six modern fit-for purpose studios together with a community studio, will provide world-leading spaces for our Company, Jette Parker Young Artists, Pre-Professional Program, visiting Queensland Ballet Academy students and our community, to develop their craft and love of ballet.

Studio 1
Charles Lisner
Studio generously supported by Liz and Graeme Wikman
Studio 2:
Harry Haythorne
Studio generously supported by Trevor and Judith St Baker
Studio 3:
Harold Collins
Studio generously supported by Bruce and Jill Mathieson
Studio 4:
François Klaus
Generously supported by the Frazer Family Foundation
Studio 5:
Li Cunxin
Studio generously supported by Roy and Nola Thompson
Studio 6:
Community Studio
Studio generously supported by the Murphy Family Foundation
#Artists-in-Residence, Art & Photography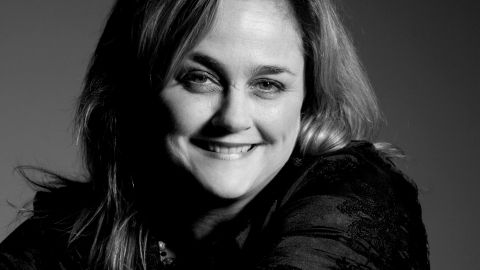 Resident Choreographer, Natalie Weir
Queensland Ballet and acclaimed Australian choreographer Natalie Weir have enjoyed a long association since the early days of her career. We feel privileged to have commissioned, performed and shared numerous of Natalie's works with our audiences. We are delighted to consolidate our enduring and generative relationship with Natalie in a three-year choreographic residency. In addition to her creative role, Natalie is a valued member of our Artistic Staff who shares her incredible wealth of knowledge with our dancers and advanced Academy students through workshops, masterclasses and mentoring.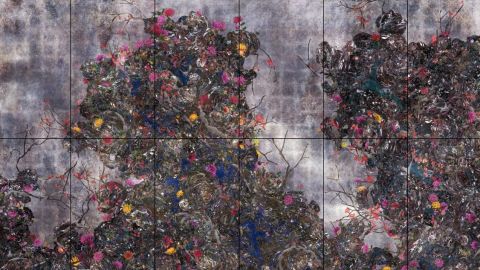 by teamLab 
This extraordinary digital artwork continuously renders an image in real time. Continuously changing, its visual states are never replicated. This enthralling work offers singular, unique pictures, each of which can never be seen again.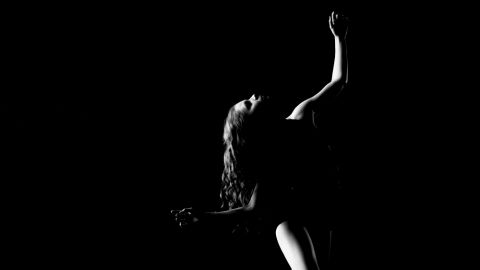 by David Kelly 
A photographic exhibition of six Queensland Ballet dancers and their personal interpretations of composer Arvo Pärt's work, Fratres. It is where both dancers and photographer emerge from darkness and unlock their self-expression with beauty, physicality and emotion.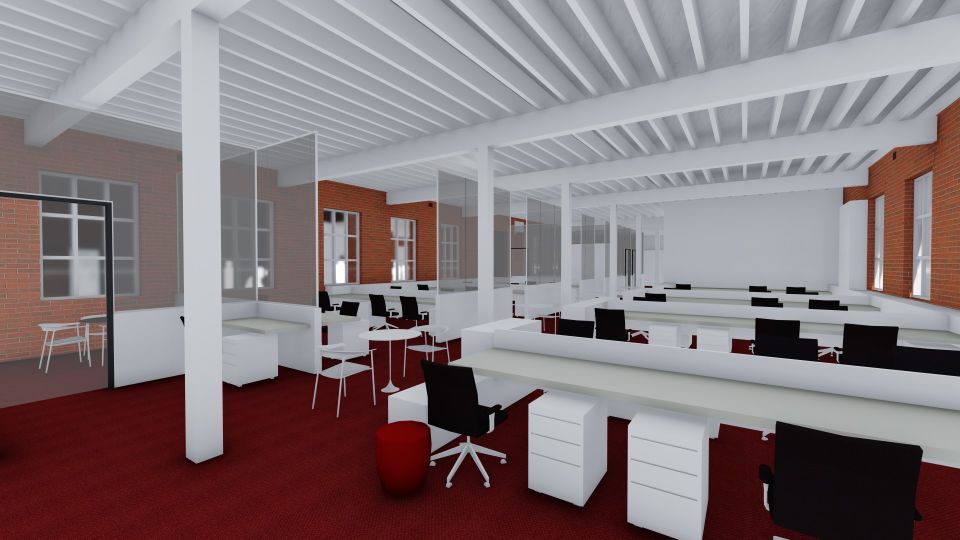 Our Thomas Dixon Centre is designed to achieve the highest outcomes in human health, wellbeing and comfort according to the WELL™ Building Standard. Queensland Ballet believes in the transformational impact that our buildings and the way they work can have on our people and visitors. Our Thomas Dixon Centre has been designed to improve our comfort, drive better choices and generally enhance, not compromise, our health and wellness.
#Project Team
Queensland Ballet has partnered with many talented organisations to help us achieve our full vision within Thomas Dixon Centre.
Hansen Yuncken commenced the Main Works build in May after the successful completion of the Early Works by Hutchinson Builders.
#Capital Partners and Supporters
---
Thank you to the Ian Potter Foundation, Ken Talbot Foundation, Clive & Conchita Armitage, Barbara Bedwell, Brett & Maria Clark, Tim & Gina Fairfax, Frazer Family Foundation, Ian & Cass George, Goldburg Family Foundation, Bruce & Jill Mathieson, David & Loraine McLaren, Murphy Family Foundation, Trevor & Judith St Baker, Stack Family Foundation, Anne Symons, Roy & Nola Thompson, Kay Van Norton Poche AO, Liz & Graeme Wikman, Steve & Jane Wilson.

Support the Thomas Dixon Centre
We've achieved so much by creating this magnificent home for Queensland Ballet and Queensland arts communities. But there's always more work to be done, and you can help us continue to grow.
Planning a visit to Thomas Dixon Centre? Find out everything you need to know before you arrive.
Thomas Dixon Centre is available for venue hire, with a range of studios, event spaces, boardrooms and more available for your next event.