---
Online school workshops

Queensland Ballet's online school workshops are rigorously designed with the Australian Curriculum – The Arts Learning Area: Dance Subject, Senior Dance Syllabus and Early Years Learning Framework in mind, ensuring all workshops complement teaching and learning already taking place in the classroom.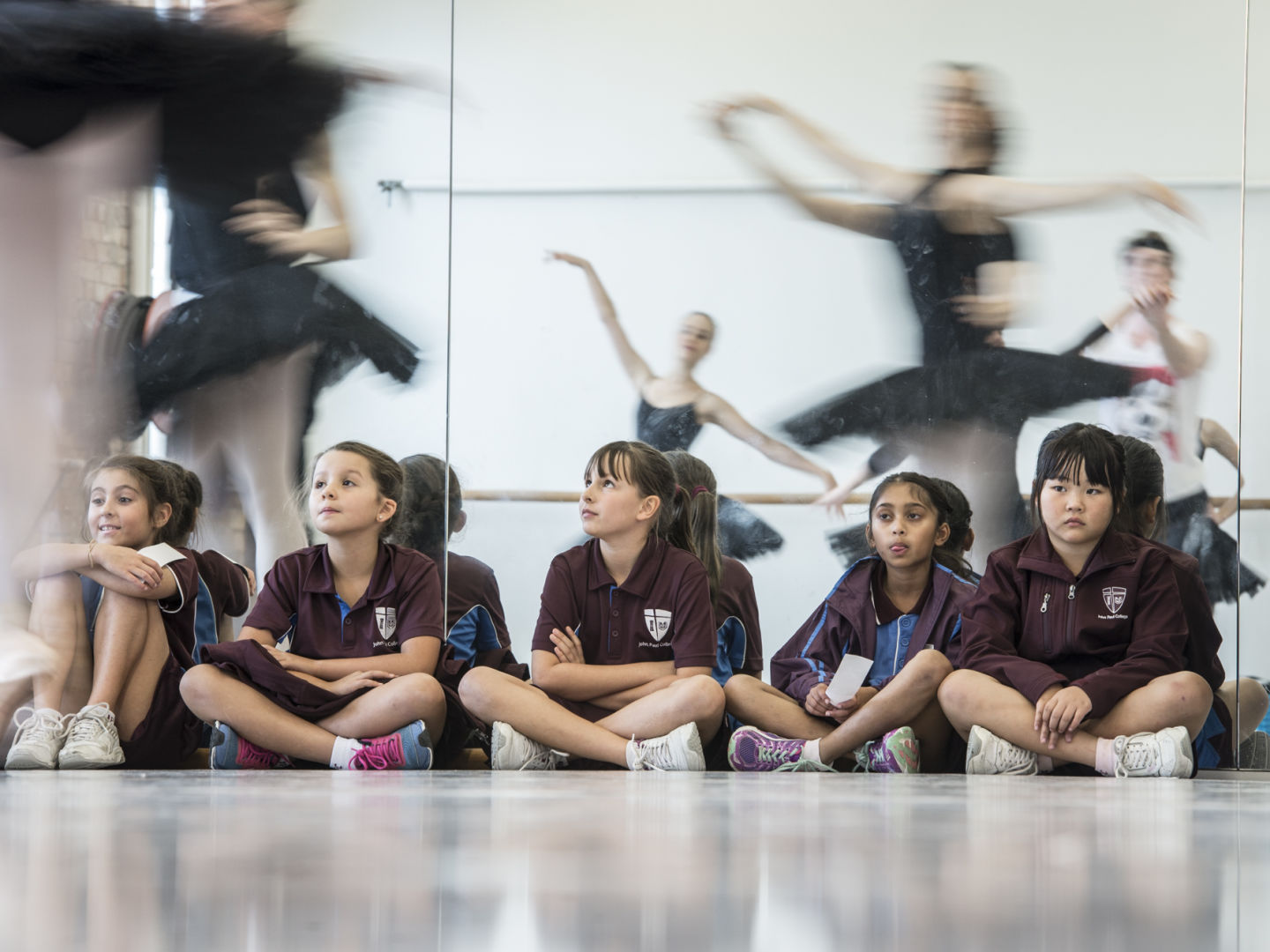 Designed with children's learning needs and development in mind, these workshops can be completed in your own classroom.

Workshops are a great tool for children and teenagers to learn things like:
- Confidence working and performing in groups
- Social and spatial awareness
- Coordination and balance
#What is an Online Workshop?
---
All workshops have been created and recorded by QB Education Teaching Artists who are passionate about putting the fun into the fundamentals of ballet, virtually visiting your school to deliver safe, educative and inclusive dance and movement experiences.
These workshops are available for kindergarten years, through to year 12, and all information is adapted to accommodate the diverse learning needs and experience levels and ages of students.
Available for 3 months unlimited use on QB's LearningHUB portal via Thinkific
Ability to deliver the workshop package over multiple lessons for as many students and/or class groups as possible.
Accessible and affordable offering for schools/kindergartens that provides students with a unique and valuable opportunity to engage with ballet and movement.
Specially created to facilitate an in-depth learning experience that are complementary to the Australian Curriculum Dance subject and Senior Dance Curriculum and Early Years Learning Framework.
#What's included in the workshops?
---
Workshop videos
A 40min instructional video led by QB Education Teaching Artists. Each video includes practical exercises, analysis and discussion activities.
Pre and post workshop resources
A document that is available for download in the QB LearningHUB portal, and provides teachers with suggested pre and post workshop activities to enhance student engagement and understanding with the activities undertaken.
Live stream Q&A
A 30min Q&A with a member of the QB Education Team and the school/kindergarten. This gives students and teachers the opportunity to ask questions about technique, movement, and ballet in general! Q&As will be arranged at a time that suits each individual school/kindergarten.
#Online School Workshops
"The QB Online Workshops are a wonderful tool to bring real world context into the classroom in a safe and engaging way. The combination of making and reflecting activities fits well with ACARA and the new QLD Dance Syllabus.
I would highly recommend them to any dance teacher."
---
Learn more about Queensland Ballet online workshops for each school level, and what to expect from your purchase
Need more information on the ins and outs of an online workshop purchase? Be sure to read our terms and conditions.
Our Petit Pointers Teacher Training program is the ideal place for you to learn the foundations of dance for children, and how to best deliver this to your students and community.