---
Academy facilities

Academy graduates will be professionally trained ballet artists, academically empowered and equipped with key attributes to best position them for their aspirations.

"This new facility brings together the academic and artistic training of young aspiring dancers and will provide world-class training facilities that will rival those offered globally."

- Li Cunxin, Artistic Director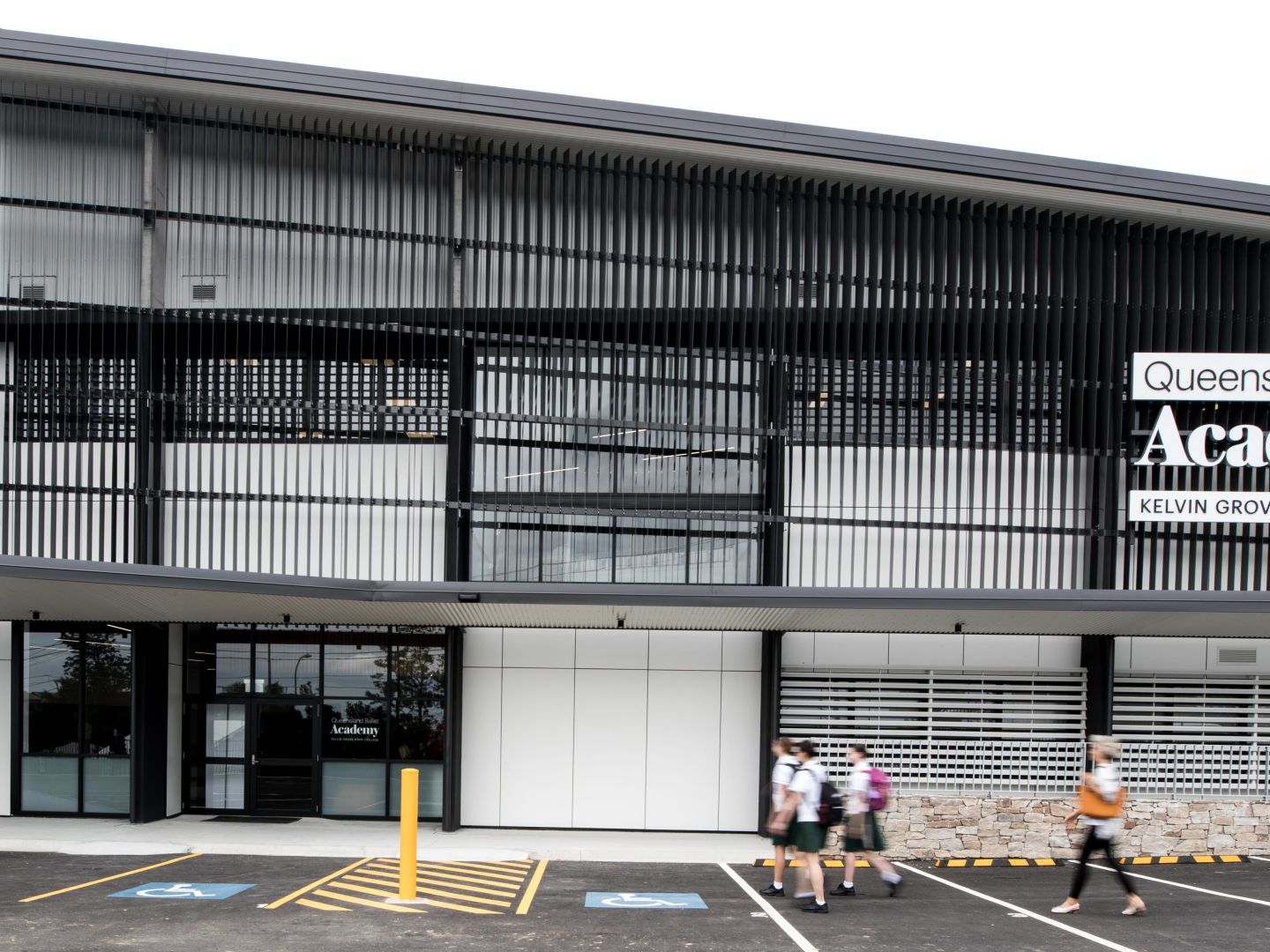 State-of-the-art new home in Kelvin Grove
On 6 March 2020, the Minister for Education and Minister for Industrial Relations officially opened the doors of Queensland Ballet Academy's state-of-the art elite training facility at Kelvin Grove State College. This development represents an exciting new chapter enabling a transformational educational and artistic collaboration between Kelvin Grove State College and Queensland Ballet.

The new Academy building currently offers full-time elite ballet training and education to students from Years 7 - 12 enrolled in our Academy Program, and part time studies for students enrolled in our Guest Program and Foundation Program.
#Academy Spaces
Our Academy building in Kelvin Grove features six world-class dance studios, student quarters including a green room, a classroom for additional studies, physiotherapy facilities, a Pilates studio, and weights gym.
---
Studios 7-12
Designed to be among the best in the world, the six spacious, brand new studios nurture inspiration and aspiration every day. With the capability to hold intimate performance experiences and capacity to host large-scale celebratory open days, the studios easily transform to show off their best angles, no matter what the occasion.
Wellness Suite
We are committed to providing world-leading medical facilities and care for our dancers, supporting injury prevention, treatment and recovery, and mental well being. Our Academy Wellness Suite offers outstanding facilities, including a fully equipped gym, medical consultancy areas and Pilates and physiotherapy spaces.
Learning & development spaces
General use rooms enable the Academy to also provide extended, enriching learning content in addition to ballet-specific training. With the capacity to be multi-modal, the general learning spaces easily transform from classrooms to video learning areas, to parent/teacher interview spaces, teacher professional development facilities as well as larger format meeting rooms.
Student dressing & green rooms
Open planned breakout spaces complete with kitchen facilities embedded into dancer green room areas and spacious dressing rooms provide timeout zones for rest and rejuvenation. The facility has been designed to ensure students will feel nurtured and safe, as well as content in the way the facility supports their goals for peak performance.
Queensland Ballet Academy would not be where it is today without the generous support of donors who share our vision.
Have specific questions you'd like answered?
Contact us or read our frequently asked questions.
The Academy hosts a yearly schedule of training workshops and student performances, giving you access to training and connection with students.